Screen Cleaner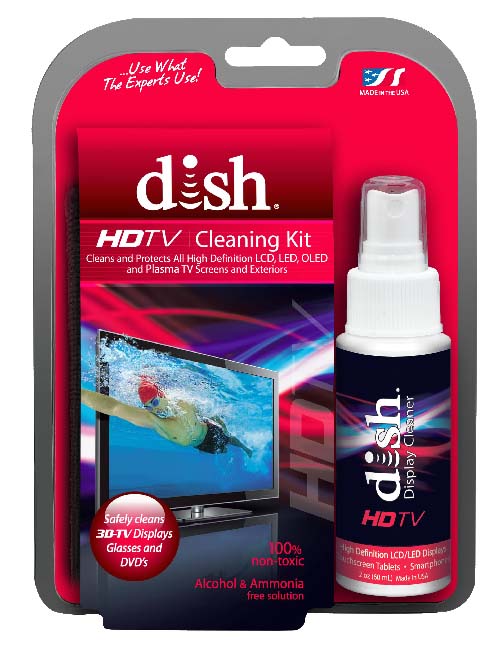 Protect your investment by using our specially developed, ammonia and alcohol-free, screen cleaner; safe to use on any type of HDTV as well as smartphones, laptops, tablets, and eyeglasses.
Price: $15.99
Product Highlights
Ammonia and alcohol-free
Antibacterial microfiber cloth included
Safe for HDTVs, computer screens, laptops, tablets, smartphones, and eyeglasses
Non-toxic; safe for children and pets
Made in the USA
Did You Know?
DISH Screen Cleaner kits are made and packaged in the USA by Commercial Support Service (CSS), an employment and job training provider for developmentally disabled adults since 1965
Ammonia-based products damage screens over time
Used by NASA, Disney, Apple, Dell, HP, Samsung, and ViewSonic
What's In The Box?
Two-ounce bottle of screen cleaner
Antibacterial microfiber cloth
Technical Specs
Proprietary anti-static cleaner
Will not damage screens with special coatings
Leaves an antistatic finish on the screen
Cleaner & cloth are 100% non-toxic
Warranty
One-year product warranty
Contact DISH at 800-333-DISH (3474) for issues within 30 days of purchase date
Contact Klear Screen at 800-505-5327 for defective products